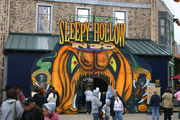 The Curse of Sleepy Hollow in 3-D was an up charge haunted house during Fright Fest 2003-05. It was located in Southwest Territory utilizing the cue line for Trailblazer and the housing for the Wild West Arcade.
Experience
Edit
Despite its name the attraction had nothing to do with the classic Legend of Sleepy Hollow story, but instead featured a heavy fun house theme. It used the cue line for Trailblazer, which did not operate during Fright Fest, and lead the patrons into a side door entrance for Wild West Arcade. Before entering guests receive a quick safety briefing and a pair of 3-D glasses. Inside the walls were splattered with neon paints which stood out with the 3-D glasses. Clowns hid throughout the house popping out of secret doors in the walls. Guests then exited out next to Ricochet.
The Curse of Sleepy Hollow took over the location of Dead and Breakfast haunted House from the years prior. It was the first to abandon the Dead Man's Gulch theme used in former Haunted Houses in the area. The idea was completely abandoned in 2005. Sleepy Hollow lasted from Fright Fest 2003-05 and the location would be used for future Haunted Houses like The Curse 3-D, Studio 13, and Saw Live. To this day the receipts received when purchasing tickets still read Sleepy Hollow.