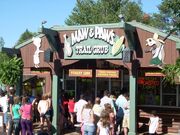 Maw and Paw's Trail Grub is a walk-up restaurant in the Yukon Territory next to Camp Cartoon. They offer giant turkey legs, corn-on-the-cob, cheese fries among other more standard food. The building is decorated with characters from Hanna-Barbera's "The Hillbilly Bears" complimenting it's spot next to Camp Cartoon.
Ad blocker interference detected!
Wikia is a free-to-use site that makes money from advertising. We have a modified experience for viewers using ad blockers

Wikia is not accessible if you've made further modifications. Remove the custom ad blocker rule(s) and the page will load as expected.