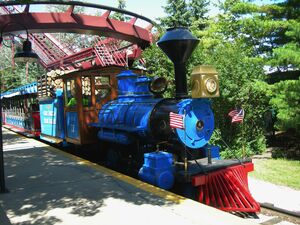 The Great America Scenic Railway is a miniature train ride that circles Six Flags Great America, and opened in 1976. It features two stops, in Hometown Square, and in County Fair.
The Scenic Railway uses two trains, the red train being number 16, and the blue train being number 22. The track was modified in 1980 to include a tunnel as it passed by the Demon, in 1985 when Z-Force was added, 1989 when Rolling Thunder was built (added third trestle), and in 1993 when the Batman Stunt Show opened (added railroad crossing signs and gates).
There are two stations for the Scenic Railway. In Hometown Square it is located on the hill behind the stage for the night-time parade (directly across from the Grand Music Hall) and is known as "Hometown Station". In County Fair it is located between Iron Wolf and Funnel Cake Foundry, and is named "Fairgrounds Junction".