Deja Vu

Staus

REMOVED

Opened

2001

Closed

October 28, 2007

Location

Manufactuer

Vekoma

Capacity

1,010 per hour

Height

178 ft.

Length

1,203 ft.

Speed

65 MPH

Height Restrictions

Between 54" and 76"

Déjà Vu was a Vekoma Giant Inverted Boomerang that was built in County Fair in 2001. The prototype roller coaster, while popular when it operated, was plagued with maintenance problems. The ride's reputation, increasing maintenance costs, and various other issues about the ride resulted in its removal after the 2007 season.
Déjà Vu was built on the former location of Sky Whirl and Hay Baler. Originally scheduled to open in early 2001, alongside with Vertical Velocity, various problems with the ride prevented Déjà Vu from opening until October. Déjà Vu's problems weren't over, as in 2002 the ride suffered from even more mechanical flaws and problems. These problems would carry over through the 2003 and 2004 seasons. In 2005, Déjà Vu received a new paint job, and the following year, it operated exceptionally well compared to past years. This would continue through the 2007 season, however, after years of dealing with the ride's poor reputation for breaking down so often, Six Flags decided to remove it after the 2007 season. As a farewell event, the park and the American Coaster Enthusiasts put together an exclusive ride time for the "last ride ever" on Déjà Vu (this was not true, as after this event, the park employees were treated to Déjà Vu's very last rides at Great America).
Removal began in December 2007, starting with removing small parts such as the catch car. A crane was on-site in early February, and track removal began in mid-February 2008 with the removal of a portion of the loop. Removal continued throughout the winter with the loop gone by March and the cobra roll gone by April. Removal of the towers began in mid-April and by opening weekend only small portions of both towers remained. By May 15th, DejaVu was gone. The former queue house has been replaced with a large 3-Point Basketball Game. In 2009 a MACK Splash Battle called Buccaneer Battle took it's place.
Déjà Vu was relocated to Silverwood theme park in Athol, Idaho, and after running an online contest to determine a name, it was renamed as Aftershock[1] The ride opened July 21, 2008, and interestingly has had a very low downtime rate.
Ride Experience
Edit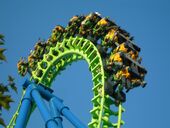 Guests would board radically different trains, each car featuring two seats in front, and just behind those, two more seats off the the side; forming a V-Shape. After fastening their seat belts and pulling down their harness, they would be pulled backwards up a 191-foot vertical tower and released once reaching the top. The train would then fly through the station, through a massive cobra roll, and into a loop over the station platform. The train would then ascend another 191-foot vertical tower and be released, falling backwards through the ride course. The ride lasted one minute and 32 seconds, and guests needed to be between 54" and 76" to ride.
Déjà Vu's Effects on Six Flags and Vekoma
Edit
The decision to install three prototype Vekoma Giant Inverted Boomerangs at three Six Flags parks (four, counting Stunt Fall at Parque Warner Madrid) has been considered a very poor business decision, as all three of the rides suffered from similar problems. These problems caused Six Flags to lose a lot of money, and Great America was threatened with lawsuits over false advertisement about the ride's opening. Because of that, Six Flags' Corporate vowed not to purchase any more rides from Vekoma. This also led to Vekoma losing money trying to keep up with and repair the rides. It also led to Vekoma's bankruptcy in 2002. Vekoma would later re-emerge as a different company with the same name, but has not built any Giant Inverted Boomerangs since.
External Links
Edit